Eastern Highlands Province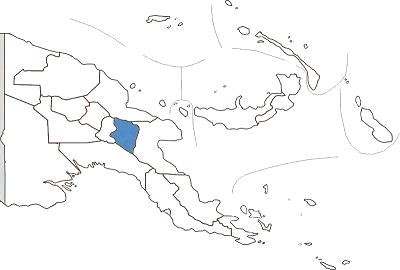 With a history of gold mines and coffee plantations, Eastern Highlands Province has had more exposure to European influence than any of the other Highlands provinces. It has a history full of colourful characters - miners, missionaries, patrol officers, plantation owners. Traditional dress is seldom worn these days, although the Highlanders still live in villages of neat clusters of low walled round huts built amongst the rolling kunai-grass covered hills.
Goroka, a small outpost station in the 1950's, has developed into an attractive, well organised town with modern facilities and relaxed atmosphere. It is a major Highlands commercial centre of 25,000 people and at an altitude of 1600 metres it has a climate of perpetual spring.
Today Goroko has become known for its annual show, held every August. It is a marvellous opportunity to gain an overview of PNG's cultural diversity. The shows were first held in the 50's as a means of gathering together the different tribes and clans. At times there could be more than 40,000 painted warriors dancing to the beat of the Kundu drums. The scenario was an amazing success and grew from its original concept of a local get-together into a major tourist attraction.
Amongst the performers are the legendary mud men of Asaro. Tribal folklore records that centuries ago the warriors of Asaro were defeated in a tribal fight with a neighbouring village. Honour compelled the men to retaliate with a "payback" raid, and, to make themselves look fierce in the process, covered their bodies with grey mud. According to legend, the ruse worked, and their enemies fled at the sight of these ghostly apparitions. The mud men recreate the drama at the Goroka show and for hotel tour groups.
The Raun Raun Theatre Company, based in Goroka is a highly acclaimed performing group which tours both nationally and internationally. The theatre is located near the market, just a short walk from the town centre.
The J.K. McCarthy Museum in Goroka is named after one of Papua New Guinea's legendary patrol officers. It is second only to the National Museum in Port Moresby and exhibits a wide variety of artefacts, handicrafts, war relics and a collection of photographs which portray early contact between Europeans and Highlanders.
From the Post Office, the street leads to a track that climbs to Mt Kiss lookout. A long steep walk ends with a magnificent vista across the valley. More serious trekking can be found south of Goroka at Lufa, the base of Mt Michael. There is a cave nearby with some interesting prehistoric paintings.
From Goroka on the old road to Kainantu is the village of Bena Bena, a centre for weaving. The men opera te the hand looms, weaving pleasantly coarse rugs, bedspreads and place mats.
Eleven kms out of town by four wheel drive is the Mt Gahavisuka Provincial Park. This is an area of around 80 hectares set in beautiful mountain scenery. The Park includes a botanical sanctuary, where exotic plants from all over PNG have been added to the local, natural orchids and rhododendrons. There are clearly marked walking tracks and a lookout at 2450 metres with panoramic views.
Hotels can arrange day tours to any of the attractions near Goroka including visits to working coffee plantations, processing plants and the Kotuni trout farm - a favourite on local menus.
There are a number of options for accommodation in Goroka, ranging from the top of the range Bird of Paradise Hotel to the Teachers College Campus.
Air Niugini has daily direct flights to Goroka from Port Moresby. Third level airlines also provide connections to Goroka from various centres. Local PMV buses travel regularly between Lae and Goroka.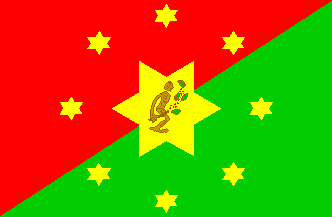 District
District Capital
LLG Name
Daulo District
Asaro
Asaro-Watabung Rural
Goroka District
Goroka
Goroka Rural
Goroka Urban
Henganofi District
Henganofi
Henganofi Rural
Kainantu District
Kainantu
Kainantu Rural
Kainantu Urban
Lufa District
Lufa
Lufa Rural
Obura-Wonenara District
Lamari
Lamari Rural
Yelia Rural
Okapa District
Okapa
Okapa Rural
Unggai-Benna District
Benna
Unggai-Benna Rural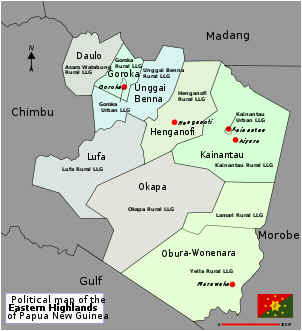 Bird Of Paradise Hotel – 531 3100
Goroka Lutheran Guest House – 532 1171
Goroka Mission & Tourist Haus – 532 1218
GK Lodge – 532 1690
Goroka Lodge – 532 2411
Numutoka Lodge – 532 2714
Kanda Rest Lodge – 532 2944
A.B Lodge – 532 2966
Diwai Hut Lodge – 532 3840
Pacific Gardens Hotel – 532 3418
Kainantu Lodge – 537 1020
Good Samaritan Lodge – 7262 9989
Our advertising rates and policy can be found through
the Online PNG Business Directory.