North Solomons (Bougainville) Province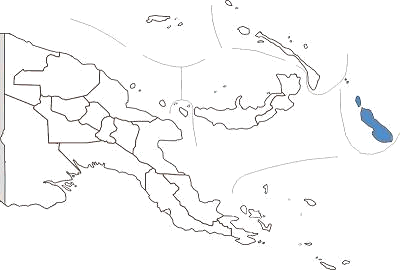 Bougainville is situated about 5 degrees south of the equator and is hot.
Bougainville is going through a time of rapid change. Since the signing of the peace agreement in 2001 development agencies have been working on various projects from agriculture to business to improving health, education to name a few.
North Solomons Province has two main islands, Buka and Bougainville plus a scattering of smaller islands and atolls. It is located north east of mainland Papua New Guinea. Blessed with a lovely French name shares with an explorer and one of the Pacific most beautiful plants, Bougainville is a jewel of the South Seas. And while a decade of disturbance has wilted the memories of some, the island is being reborn, and the business centre of Buka is booming.
The North Solomons Province has been known for its picture-perfect beaches and bays since French explorers spread the stories of its beauty almost 200 years ago. The influence of the French is still found in the Polynesian languages spoken on the Takuu and Nukumanu islands. In fact 23 languages are spoken throughout the province.
Almost a decade of civil war left only the language of violence until recently on the island of Bougainville. Now the fighting is finished and the lovely island of Bougainville is flourishing. Air Niugini can take you from Port Moresby to Buka three times a week aboard the swift and comfortable F28 jet services. Flights are scheduled for Tuesday, Thursday and Saturday, with the aircraft returning the same days.
Number of guest house and a small island resort provide and, along with the market, a good range of shops will keep shoppers happy. Cafes and coffee shops make deliciously good use of local produce new the brand new hospital. Whether snorkeling or SCUBA diving, the waters off the coast are a treasure cove.
A Visibility is almost unlimited, with wartime wrecks including a Japanese Zero aircraft only a few meters deep. The crafts and customs of Buka and North Bougainville are fascinating for anyone interested in the culture. Featured on the provincial flag is a tall hat, known as Upei. The Upei is a woven headdress worn by young men at their initiation and marriage ceremonies.
Buka is the provincial capital. Shops and services for the town are located along the main waterfront, including the market and water taxis. Sohano Island is just a few minutes by boat from Buka, with its colonial buildings and manicured lawns and gardens. The steep cliffs provide fine views over Buka Passage and there are good swimming beaches. The volcanic island of Bougainville is covered in heavy jungle, and is home to one of the world's largest caves, Benua. The island's highest point is Mount Balbi (2685m), a dormant volcano.
While roads, including the main road down to the east coast, are still being re-built, coastal shipping is still thriving between Buka and Kieta, near Arawa in the south.

District
District Capital
LLG Name
Central Bougainville District
Arawa-Kieta
Arawa Rural
Wakunai Rural
North Bougainville District
Buka
Atolls Rural
Buka Rural
Kunua Rural
Nissan Rural
Selau Suir Rural
Tinputz Rural
South Bougainville District
Buin
Bana Rural
Buin Rural
Siwai Rural
Torokina Rural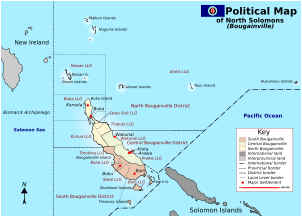 Lumankoa Guest House – 973 9358
Kuri Village Resort – 973 9155
Madehas Island Resort – 973 9063
Our advertising rates and policy can be found through
the Online PNG Business Directory.