Enga Province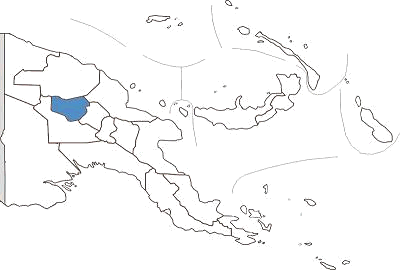 Enga Province, sharing a border with Western Province, features rugged mountains, high valleys and fast flowing rivers. The Engan people are a hardy race living mostly by subsistence farming. Tribal warfare is still a common way to settle inter-tribal disputes and ceremonial life encompasses the giving, receiving and displaying of wealth.
Ceremonies are presided over by tribal elders, distinguished by their two-metre high headdress displaying the brilliant colours of plumes from the bird of paradise. Proud warriors painted in bright ochre dance long into the night to the beat of the Kundu drums. The ceremonial singsing can last for days during which time many pigs, the greatest symbol of wealth, will be presented as gifts. Men will slaughter and prepare a feast of pork, green leaves and vegetables cooked in a deep earth pit over hot coals. After several hours it is shared amongst the guests with the choice cut being offered to the guest of honour.
Monetary wealth has come to the Engan landowners since the introduction of coffee plantations and more importantly the development of the Porgera gold and silver mine, estimated to be the largest gold mine outside South Africa. Despite the wealth, development of infrastructure has been slow. The rugged terrain does not lend itself well to progress. Landslides and broken bridges are common along country roads and walking is often the only alternative to travel by four wheel drive.
Trekking enthusiasts will find their efforts rewarded by the magnificently unspoiled surroundings. In the west of the province is Laiagam. The Botanical Gardens here have a collection of over 100 species of native orchids and more than thirteen species of rhododendrons. Lake Rau, in the middle of Enga, is a crater lake 3000 metres above sea level. It is a day's walk from the nearest village of Pumas. A guide is recommended.
Wabag is the provincial headquarters. It is about four hours drive by bus or four-wheel drive from Mt Hagen. The Wabag Cultural Centre includes a museum with a fine display of wigs, war shields and masks and an art gallery. The centre also houses a workshop where young artists are taught the skills of sand painting, an art form unique to Enga Province. Using ground stone in natural hues as a medium, the sand painters create landscapes and legendary figures on a base of wood or plasterboard. The centre is open from 9.00 am to 4.00 p.m. weekdays.
District
District Capital
LLG Name
Kandep District
Kandep
Kandep Rural
Wage Rural
Kompiam District
Kompiam
Ambum Rural
Kompiam Rural
Wapi (Uangis) Rural
Lagaip-Porgera District
Lagaip-Porgera
Lagaip Rural
Maip-Mulitaka Rural
Paiela-Hewa Rural
Pogera Rural
Wabag District
Wabag
Maramuni Rural
Wabag Rural
Wabag Urban
Kandep District
Kandep
Tsak Rural
Wapenamanda Rural
Dae Won Wabag Hotel – 547 1140
Our advertising rates and policy can be found through
the Online PNG Business Directory.