New Ireland Province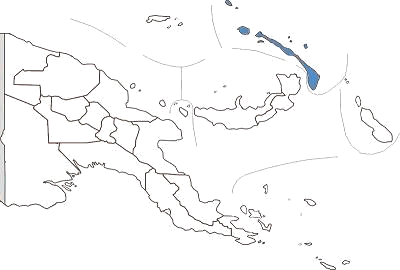 Long, narrow and mountainous, New Ireland boasts undeniable beauty, peaceful people, never ending beaches, the popular Malagan show, the unique annual Shark Calling festival, game fishing and a history visited by explorers, missionaries, traders and Japanese armed forces.
Discovered by Dutch explorers in 1516, it was 1877 when the first missionaries arrived. With the development of copra plantations it soon became one of Germany's most profitable colonies. During World War 2, New Ireland fell to the Japanese and many of the island's towns, infrastructure and industry was destroyed.
New Ireland was also the setting for the saga of the Marquis de Ray who advertised Cape Breton as a thriving settlement, sold hundred of hectares of land to gullible settlers who were dumped with three weeks supplies, including a mill, note books and bricks, into a tangled jungle, with perpetual rainfall and unfriendly neighbours. Most died of starvation or malaria before being rescued and sent to Australia. Parts of the grinding stone for the never used grain mill can still be found in Kavieng. As for the Marquis de Ray, he ended his days in a lunatic asylum in France.
The provincial centre of Kavieng is situated at the northern tip of the island. It has often been described as a "typical Somerset Maughan south sea island port". It has a large, beautiful harbour and is a popular destination for game fishing enthusiasts. Along the edge of the harbour is Kavieng's Harbour Drive, a gently curving road, shaded by huge trees, which passes many points of historical interest. A couple of kilometres out of Kavieng, along the Buluminski Highway, a little pathway leads off the road to a limestone cave filled with crystal clear water. At Utu village, the high school has a small museum with exhibitions of Malagan carvings - carved totem-like poles used in initiation ceremonies and rituals; ancient stone tools and vessels and a shark catching propeller.
New Ireland is the centre for the art of shark calling. Certain men have the ability to 'call up" sharks. The unfortunate shark swims up to the caller's boat where they can be speared and netted. Alternatively the shark propeller is used - a noose is hung with half coconut shells which make a rattling noise, attracting the shark up through the noose. A rope attached to the noose is connected to a wooden propeller which is spun round to tighten the noose and simultaneously pull in the rope. The shark, unable to keep moving, effectively drowns.
New Ireland Province includes a number of offshore islands. From the northeast coast are the islands of Tabar, Tanga, Feni and Lihir. Lihir Island is the site of the Lihir gold mine, reputed to have the second largest gold deposit in the world.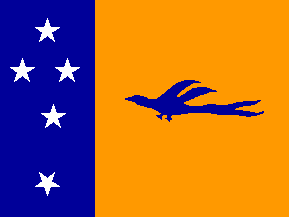 District
District Capital
LLG Name
Kavieng District
Kavieng
Kavieng Urban
Lavongai Rural
Murat Rural
Tikana Rural
Namatanai District
Namatanai
Konoagil Rural
Namatanai Rural
Nimamar Rural
Sentral Niu Ailan Rural
Tanir Rural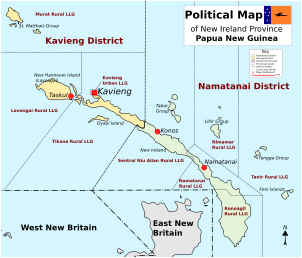 Kavieng Guest House – 984 1165
Rubio Plantation Retreat – 984 1305
Kavieng Hotel – 984 2199
Nusa Islands Retreat – 984 2247
Malagan Lodge – 984 2273
Malagan Beach Resort – 984 2344
Lissenung Island Resort – 984 2526

Treehouse Village Resort – 945 1464 (or 7264 4433)
Namatanai Hotel – 984 3057
Lihir Hotel – 986 4166
Unawos Investments – 986 4736
Our advertising rates and policy can be found through
the Online PNG Business Directory.